Frequently Asked Questions – How Can We Help?
We have tried to answer all of your questions here to make our ordering process as easy as possible for you. If you do have any questions which we have not answered please send us a message and we will come back to you as soon as possible. We are a Bedford Florist, so if you are local we would love to meet you to answer your questions. Thank you Barb
Read or view by video (More Videos coming soon..)
How do I place my order? You can now order via our shop or if you would prefer a more personal service, give us a call 07582472546 send us a message or use the 

contact form

. Tell us what you would like, if you have seen a photo on our website or describe to us what you have in mind. We are happy to accept a photo of someone elses work but we will not copy but make something similar for you.
How much notice do you need?

At the moment 3 month notice is needed but this may vary. If you need a bouquet sooner we will do everything we can to fit you in, please just ask.

Do you use real flowers?

No, we like to use artificial flowers which look real and last long after

your wedding.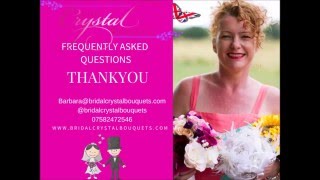 Frequently Asked Questions 1 to 3
Frequently Asked Questions 1 to 3

Frequently Asked Questions 1 to 3
What size are your bouquets?

Our brooch bouquets are approx 8inches and our bridal silk rose bouquets are approx 14 inches but this may vary.

Are there any additional costs?

Please view our

Delivery tab.

Yes, postage will be charged for a special delivery using Royal Mail. A cost will be given on request but is normally from £5 depending on the size of your order. We only charge you the cost we pay Royal Mail.

When do I need to Pay? You need to pay on ordering. If you do wish to pay in instalments, please send us a message and we can arrange this for you. If so a 20% down payment needs to be made when you place your order. We will send you payment details on your invoice. The balance is paid before delivery.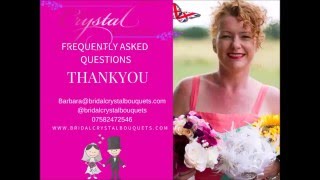 Frequently Asked Questions 2
Frequently Asked Questions 2

We have included some of our FAQ for you to view. Please check out our other FAQ videos. Please ask if you have any other questions. Happy to help.
Can I pay in instalements?

Yes you can please just ask before you place your order.

How can I see your Bouquets?

We are a bedord Florist so if you are within one hours drive we can pop to see you. You are always welcome to make an appointment to come to us.

When will my bouquets be delivered?

Delivery will be agreed on ordering. We deliver one full month before your wedding date unless you would like it earlier.

What if i need to cancel my order?

If you have made payments and need to cancel this will be dealt with on an individual basis. If we are able to use any materials already ordered we will make every effort to refund your money.

I love one of your bouquets on your website but would like a different colour? Please just message us and we will let you know if we can make the bouquet in your colour. Don't forget to check out our

colour options

.
Can you deliver Overseas? 

Yes, our bouquets are perfect for overseas weddings, please ask for costs.

How will my bouquet be packaged?

It will be delivered in a cardboard box and your bouquets will be wrapped in bubble wrap.

I would like to colour match to my dress? We offer a sample service at a small cost which we will refund when you order. Please message us and we will be happy to help.
I am taking my bouquets abroad how will they travel?

Lots of our brides get married abroad and our bouquets are very durable. Either pop them in your hand luggage wrapped in bubble wrap or in a hard suitcase surrounded by clothes.

How can I see your bouquets?

We attend a few wedding shows which we advertise on our

Facebook page. We are a Bedford Florist and offer home visits within an hour of Bedford. We also find Skype or facetime meetings very good as it gives you a chance to see our products and have a chat about your ideas. Please request a convenient time.
I hope we have managed to answer all of your questions. If you have any other questions please just ask we are very friendly and happy to help. Send us a message here.